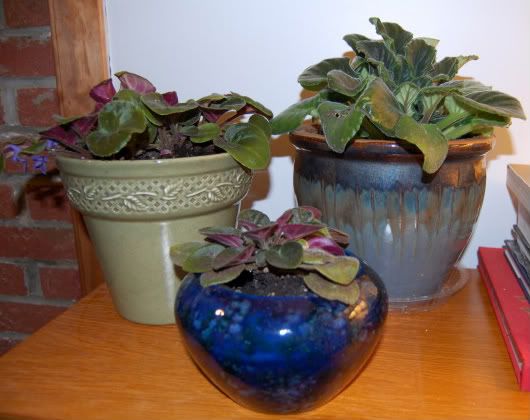 My treasured African Violet collection, (I love that pot on the right and the middle one is beautiful--
but I can't help thinking the one on the left needs ivy or something in it...) and you can also see our new fireplace molding in this pic---it was dark royal blue when we bought the house. I don't know, I don't know....but the rest of the crown molding and baseboard in that room (and the adjoining hallway..
and the banister) still is.....for now.
I love African Violets--what's not to like here? Low-maintenance, evergreen, and pretty little flowers. On Sunday, I re-potted my African Violets (all were gifts -- two of them were from S. -- and now I have even more: they have multiplied thanks to S's grandmother. I've never been able to get one to root from a leaf cutting, although I hear it's quite easy...she got two of them to.) They were due for a re-potting, the soil was depleted and the pots were too small---conveniently, the previous owners of our house left some lovely pots for us when they moved out (of course I told them that we would love to take them off their hands and no, no, please don't throw them out :-) Some of those turned out to be the right size, so I used them rather than some of our own stash of plant pots....I do think I want to find one glazed in the same style as the others for that one pot on the left (nice pattern, but just doesn't scream 'African Violet' to me, ya know?). There were some lovely brown ones at our local home improvement store but we were in a hurry, (when are we not, at that store?) so I didn't have a chance to get one. I think next time when I re-pot them I will, though, for a full matched set.
I love those beautiful fuzzy leaf rosettes...with red & purple undersides, too. Just be careful not to get water on them--they don't like that, and will get water spots!