Last weekend we made this
Terribly Terrific Toffee from A Southern Grace
. I won't re-post her already well-written instructions....but I'll show you what we did, and what we changed....
First we greased the pan really really well (our cookie sheet doesn't have edges, so we used a lasagne pan) and started to lay out saltines (we used store brand) edge to edge on the bottom.
It took about 45 to fit the entire pan (slightly more than that I think, actually...)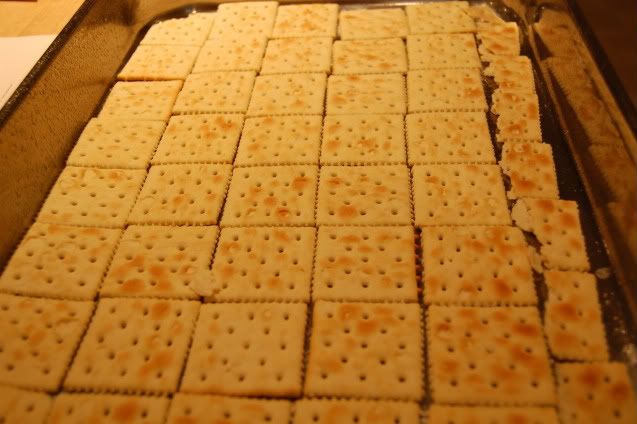 Then we combined the brown sugar and butter and started to heat it up...it combined and started to get silky and frothy...
Next, we poured the toffee over the crackers...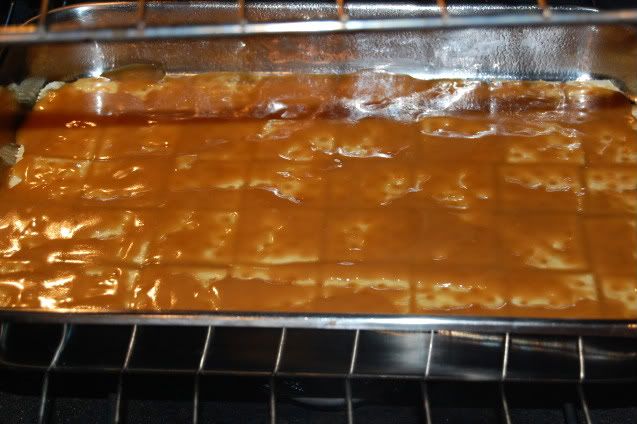 ...and put the whole shebang into the oven for a few minutes until it got all bubbly.
When we took the pan out of the oven, we let it cool for a few seconds and spread one entire bag of chocolate chips over it. Then let it sit for a bit to soften the chocolate. Once it was softened, we used some silicone spatulas to spread the chocolate out.
Then it went onto the table to cool (we put some into the refrigerator too--they hardened a bit better) And voila!
And voila!